Jargon, Shorthand, and Other Language Obstacles
By Neel V. Patel / 4 minute read
Every science journalist knows that jargon is anathema to good journalism. Don't use it.
"Every time you have a bit of jargon, it puts up like a tiny bit of friction or a block for the reader," says Niall Firth of MIT Technology Review. Each instance will cause the reader to think, 'Oh, this isn't really for me.'"
In practice, however, when reporters talk with expert sources every day and become used to the subject matter at hand, they start to absorb the lingo the scientists use. Certain words stop seeming like jargon and start seeming like common terminology. The same goes for some shorthand phrases meant to summarize a concept or process in just a couple of words. Immerse yourself in this vocabulary long enough, and it may well find its way into your writing.
"You become a person who has learned a lot about these concepts and has learned how to have conversations about these things with scientists," says Michael Roston, an editor at The New York Times.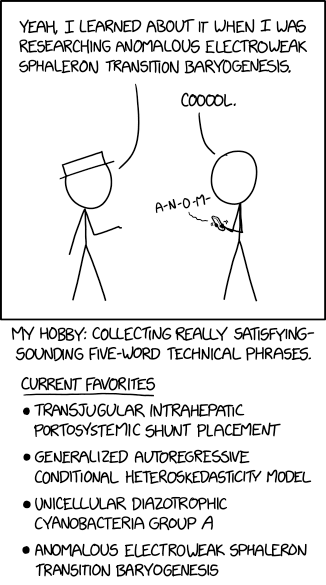 "For example, you ask a scientist a question like, 'So how did you knock out those genes?' What does that actually mean? Knocking out a gene is this complicated process that requires a bunch of difficult steps." What you really want to communicate, says Roston, is the idea of disabling a gene that doesn't stop the cell from functioning and reproducing.
Jargon is likeliest to appear when reporters or editors don't know the subject well, The Los Angeles Times' Karen Kaplan says. They rely on a source's words rather than their own.
The best antidote to jargon is for reporters to know the subject matter well enough to write it in their own words. A good example is the The New York Times's Dennis Overbye, who covers cosmology and astrophysics. His May 2022 story on a new photo of the supermassive black hole Sagittarius A*, just the second such object to be directly imaged by astronomers, has only one real use of jargon: "quasars," which is neatly described as "enormous geysers of energy that can be seen across the universe." Otherwise, he applies understandable and colorful language about the discovery and how it was made.
Quotations, too, should be avoided as explanatory shortcuts — they should serve only to augment what's already been written. Yasemin Saplakoglu's explainer on "de-extinction" projects in Quanta Magazine is a good example, weaving in direct quotes and voices to frame the motivations of the scientists, while using her own words to describe how de-extinction is supposed to work.
In audio stories, says NPR's Kissack, avoidance of jargon is just as crucial. "You want your story to sound like a conversation," she says. "We want to really get away from that 'voice of God' feeling." In a 2019 Shortwave segment on "adversarial artificial intelligence," the podcast's hosts spend the first several minutes describing the technology before introducing guests to discuss the impact these systems can have on cybersecurity.
Popular Science Language Pet Peeves
Niall Firth, editorial director for digital, MIT Technology Review:
Saying "start-up" when you mean "company." Or saying "individuals" instead of "people." Firth cautions against using unnecessary synonyms or anything veering too close to business-friendly lingo
Michael Roston, science editor, The New York Times:
"Knocked out a gene" or "activated a gene" or "expressed a gene." These are complicated processes, and he often has to work with reporters to have them spell them out in some detail. "With 'gene expression,' for instance, I ask them to explain that this is the copying of DNA into RNA, and what that means, rather than just relying on the simple-sounding phrase that obscures a complex process."
Katie Palmer, health-tech correspondent at STAT:
Academic sources' titles. "A reader doesn't usually need to know whether they're an assistant or associate professor in the department of something with a minimum of four words, or an insert-proper-name endowed chair," she says. "Instead, along with the primary institution they're affiliated with, I usually try to refer to an academic source by the scientific specialty that's most relevant to the expertise they're providing in the story — clinical geneticist, astrophysicist, chemical engineer, etc."
Yasmin Tayag, former science editor, OneZero:
Seeing 'TK Thing, According to Science' or 'Science Says TK' as part of headlines. As discussed in the section on headlines, Tayag thinks such language makes science look like a monolith.
Sarah Lewin Frasier, assistant news editor, Scientific American:
"The novel coronavirus." Frasier much prefers to see something along the lines of Covid-causing virus, SARS-CoV2, or even "the coronavirus." She also echoes Roston's issue with "gene expression." And she believes the term "unprecedented" can be vastly overused. "If there's a specific scientific designation of it beyond just the colloquial 'This is unusual/cool,' then that usage is jargon and should be expressed more clearly."
What's more, jargon changes over time. Ten years ago, Feltman recalls, editors would ask for a definition of "DNA" when it was used in a story. "Which is now, like, absolutely bananas," she says. And today there's little need to explain what a vaccine is or how a viral infection works. Newsrooms should discuss what they feel qualifies as jargon and what does not, based on the needs of their readers.
Popular-science stories, of course, can still make an effort to hold the hands of readers whose knowledge of a subject may not be current. In digital outlets, explainer posts are useful for a quick education. In print, sidebars can let readers play catch-up without putting the periodical down.
When used cautiously, though, jargon can fine-tune a story's appeal to an audience. If your magazine is supposed to drill down more deeply into engineering concepts, for instance, you probably have no reason to define "transistor" or "actuator" for readers.